Give dirt traps the boot
Whether it's seating benches, boot racks or garment storage, all our products under go intense development to ensure they are as hygienic and functional as possible. Following the recent launch of our boot racks, Neil Bailey, hygiene manager at Bakkavor, said: "After trialling the new boot racks, while the changes may have seemed relatively minor, they have had a positive impact on our efficiencies. Getting rid of the plastic prong ends means we've been able to save time on the weekly risk register while the lighter weight and improved angle of the prongs has made a big difference to clean down time. I'm excited about the long term savings this design will accrue."
Bespoke refers to a new one off designs. Customised refers to smaller modifications of a standard product from our range, such as perforated steel, different dimensions, additional holes added for bolt, upstand etc.
Without a drawing, we cannot show you the product before it is manufactured, therefore it could result in a product not being exactly as you would like. It is for clarification that you are receiving the correct design. We pass on the cost of making the drawings.
Customised orders are delivered between 12-20 working days after approval of the drawing, while bespoke orders are delivered between 15-30 days after approval.
Our standard 304 grade stainless steel or 316 on request. Any products with castors or feet will use our standard range unless requested otherwise.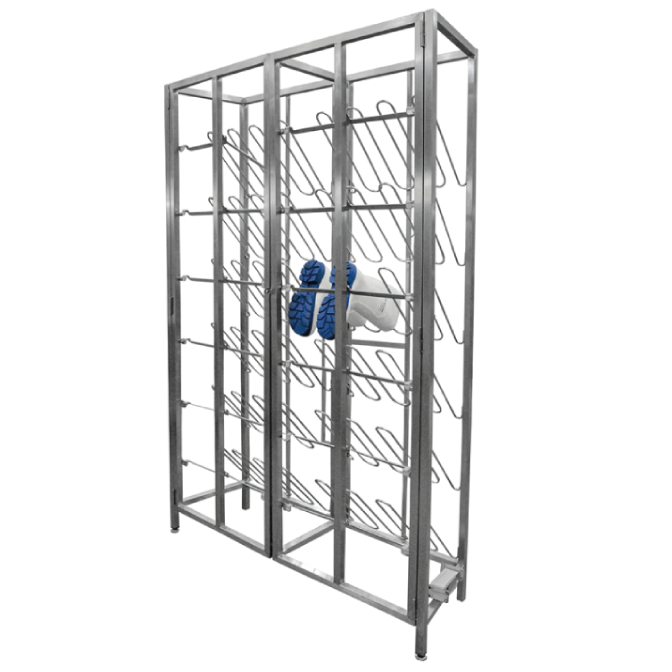 Why Choose A Teknomek Product?
Find out what makes our products special
Plastic-free prongs, presenting less surface area for dirt to collect
Enable boots to be thoroughly washed down on the rack
Round corners that don't collect dirt
Reduced footprint and reduced trip hazard & lighter weight