The Importance of Safety Matting
In today's world of high industry and technology, employee safety and well-being are two of the major pillars needed for running a business successfully. There has been an ever increasing demand for the use of proper safety matting at places where employees spend most of their working hours by standing in small areas, walking on slippery floors, or working in a place that requires proper insulation against possible electric shocks. Beyond the normal benefit of avoiding simple fatigue, the sophisticated manufacture and highly effective design of these mats make them an ideal option for all sorts of protective flooring that business owners have to create in their workplace. Employees play an important role in the success of a business; therefore, it becomes more than essential to invest in making the working environment safe for the workers.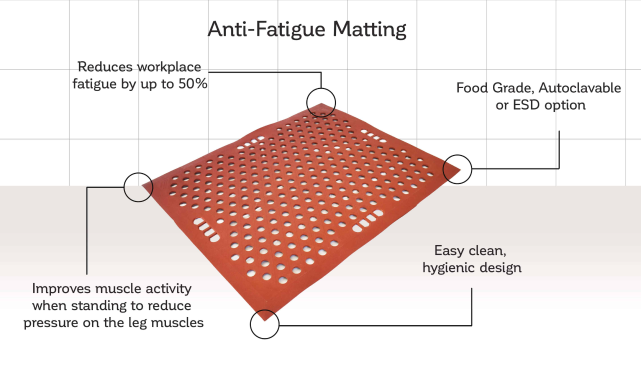 Teknomek's anti-fatigue matting range has been proven to reuce workplace fatugue by up to 50%, and there are 3 different variations to choose from, Food grade, ESD and autoclavable. The food grade is made from 100% anti-microbial nitrile rubber which prevents the growth of bacteria and other contaminants. It is resistant to vegetable and fish oils, animal fats and citrus liquids and it's open underside allows fluids and particles to pass through, and the holes make for quick and easy cleaning with a hose.
Autoclavable is made from 100% anti-microbial nitrile rubber and meets USP 797 regulation to reduce infections transmitted through to end products. This versatile matting can be used in dry, wet and oily environments, and is autoclavable up to 121°C for maximum bacteria control. An Electrostatic Discharge (ESD) variant is also available, which protects sensitive equipment by dissipating electrostatic charges into the ground.
The mats have also designed to help provide relief from long shifts or extended periods of standing. This is down to the mat's rubber domes that create a flexible and supportive surface under foot. The use of anti-fatigue matting can improve muscle activity by 50 per cent compared to standing on hard surfaces, such as concrete. This can dramatically reduce standing fatigue and related absenteeism.
Dirt can be transferred from one place to another via airborne particles, as well as footwear. Teknomek has addressed this problem with its range of sticky tack matting, available in permanent or disposable options to suit the
environment and foot traffic. As well as catching and holding onto dust and dirt on contact to remove 98 per cent of contaminants from shoes, the smooth vinyl polymer surface also attracts airborne particles electromagnetically.
The permanent matting is designed for long-term use to reduce cost and waste – a simple clean with mild detergent and tackiness is restored. The disposable polythene mats are a convenient alternative, especially in areas of heavy foot traffic. Each mat has 30 numbered layers that can be torn off at the end of each day (or as necessary) and disposed of. These products are available in a range of sizes, or can produced bespoke for specific use cases.
The deep-sided sole footbath is an economical choice in the fight against cross-contamination. Made from colourfast, chlorine-resistant high density polythene, it holds up to 18.9 litres of sanitising solution. The mat will fit in most main doorways to help prevent contamination between areas, as well as reducing slips and falls around work exits.
The product is available in black, blue and yellow to help segregate working areas. The lightweight design and built-in handles allow for quick and easy disposal of used liquid and the matts are stackable to save storage space.